N-net Gigabit Managed Ethernet Switch
NT-MG1500 Ethernet-omkopplare erbjuder paketöverföring med trådhastighet med 12 Gbps icke-blockerande switchväv, 8k MAC-adresstabell och 802.3x Full-Duplex flödeskontroll. Denna gigabit-switch kan programmeras för grundläggande switchhanteringsfunktioner som per dubbelsidighetsinställningar per port, Port Trunking, VLAN, Port Mirroring, Rapid Spanning Tree, etc. NT-MG1500 är en smart hanterad switch med 5 10/100 / 1000M bas- T porst och 1 gigabit optisk fiberupplänkport. Denna gigabit-switch stöder SNMP (Simple Simple Network Management Protocol) och kan övervakas via vilken standardbaserad hanteringsprogramvara som helst. Dessa ger ett kostnadseffektivt sätt att hantera enheten från Internet när som helst och var som helst. NT-MG1500 Ethernet-omkopplaren är en idealisk lösning för FTTX.
10/100 / 1000M nätverksväxelfunktion
Uppfyller IEEE 802.3 10Base-T, IEEE 802.3u 100Base-TX, IEEE 802.3ab 1000Base-T,

IEEE 802.3z 1000Base-SX / LX Ethernet-standard

5-Port 10/100/1000 Mbps Gigabit Ethernet-portar med 1-port fiberport

Auto-MDI / MDI-X-upptäckt på varje RJ-45-port stöder CSMA / CD-protokoll

Förhindrar paketförlust med mottryck (Half-Duplex) och 802.3x PAUSE ramflödeskontroll (Full-Duplex)

8K MAC-adresstabell, automatisk inlärning av källadresser och åldrande

12 Gbps switchväv, icke-blockerande switcharkitektur

9K Jumbo Frame-stöd i alla hastigheter (10/100/1000 Mbps)

Stöder portbaserad och 802.1Q VLAN-funktion, upp till 64 VLAN-grupper

Stöder IEEE 802.1w Rapid-Spanning Tree Protocol (RSTP)

Link Aggregation stöder statisk läge och LACP (IEEE 802.3ad) - upp till fyra trunkgrupper, varje stam är maximalt upp till 6 portar

IGMP Snooping för multicastfiltrering, stöder v1 och v2

Stöd DHCP-alternativ 60 och alternativ 82

Multicast och Broadcast Storm Control samt översvämningskontroll

Portspeglingsstöd för dedicerad hamnövervakning

802.1X Port-Base-åtkomstkontroll, RADIUS-serververifiering

Statisk MAC-adress tilldelar destinations-MAC-adress vid specifik port

Fjärrhanteringsgränssnitt för webbhantering

Firmware-uppgradering via webbgränssnitt

Kabeldiagnostik

Stöder SNMPv1 med RFC-1213/1573-gränssnittsgrupp och RMON-grupp 1 (statistik) SNMP Tra
Hanterad Ethernet-switchapplikation
Med 1gigabit fibergränssnitt, för att bygga en nätverkslösning av FTTH (Fiber to the Home) eller FTTC (Fiber to the Curb) för ISP: er och FTTB (Fiber to the Building) för företag, är de olika avstånden mellan fiberporten valfri för kunderna. För säkerhet och applikationer kan de 5 Gigabit-portarna konfigureras med VLAN-inställningar och ansluta till olika enheter, kontor, byggnader, hus och avdelningar. Och N-netthanterad gigabit Ethernet-switch är en bred applikation på FTTH-marknaden i Europa.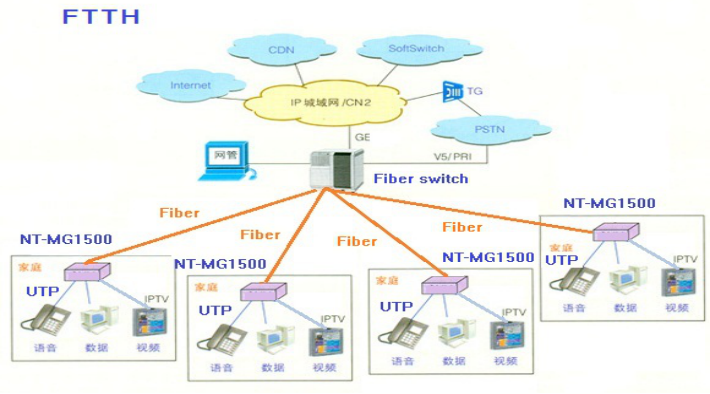 Produktkategorier : Ethernet Switch > Managed Ethernet Switch