Se:
Ringredundans är en Ethernet-höghastighetsredundansteknik.

N-NET NT-MIN1042GF är en Industrial Ring Ethernet-switch , utrustad med 2 1000base-X SFP-gränssnitt, 4 10 / 100base-T (X) -port.
Denna teknik kan inte bara säkerställa att nätverket kan återhämta sig inom 300 millisekunder när det stöter på ett fel (när det används i mer än 20 växlar), utan kan också skicka ett larm genom ett felrelä, indikator eller SNMP när ringlänken är bruten.

Stöd industriell ringprotokoll "NT-Ring", 2 Gigabit-portar skapar effektivt Gigabit självåterhämtningsringredundans (självåtervinningstid <20ms), skyddsklass, industrikvalitet fyra i enlighet med EMC-krav, styrskena eller väggmonterad, STP , RSTP-protokoll.
När ringnätet har kopplats bort skickar indikatorn ett larm på den frånkopplade omkopplaren, aktiverar dess statusrelä och matar tillbaka felmeddelandet till användaren via SNMP.

denna industriella POE-switch uppfyller kraven från industrifältet för nätverkssystemets tillförlitlighet och praktiska.
Ett ringnätverk använder en kontinuerlig ring för att ansluta varje enhet tillsammans.

Dess pålitliga hårdvarukonstruktion är särskilt lämplig för industriella kommunikationsapplikationer som kräver kontinuerlig drift.
Det kan säkerställa att signalen som skickas av en enhet kan ses av alla andra enheter på ringen.

Funktion:
4x 10 / 100Base-TX (stöd IEEE802.3af / standard), 2x 1000Base-x SFP

Denna

industriella Ethernet-switch

Kan hantera varje POE-port genom webbhantering och strömförsörjning för

Varje POE-port upp till 15,4W / 30W

Detta industriella poehanterade switch stöd N-NET patentprotokoll [NT-Ring "(Återställningstid <20ms), STP RSTP,

MSTP, Ethernet redundant.

Denna industriella switch stöd SNMPv3, IEEE802.1X, HTTPS och SSH, ökar ne2xrk säkerheten

Denna

industriella

fiberomkopplare stöder hanterade metoder för WEB, CLI, Telnet / seriekonsol, Windows-verktyg

Och SNMP, IGMP Snooping och GMRP filtrerar multicast-trafik

4KV EFT-skydd och 6KV ESD-skydd

MTBF över 100 000 timmar

Dubbel strömförsörjning (DC46V ~ DC54V) för redundans

Industriell skalkylkonstruktion i aluminium, fläktfri utan

Termisk via, IP40-skydd

Arbetstemperatur -40 ~ + 80 ºC

Support din-rail / desktop / väggmonterad

Blixtskydd: kraftgränssnittet antar nivå

4x av blixtskyddsdesign
Specifikation
technical parameter

Standard:IEEE802.3,IEEE802.3u, IEEE802.3ab ,IEEE802.3x, IEEE802.1D(STP),

IEEE802.1w(RSTP),IEEE802.1Q(Vlan Tagging),IEEE802.1p(QoS)

Protocol:NT-Ring.IGMP v1/v2.GVRP.SNMP v1/v2/v3 .DHCP Client.TFTP.SMTP.RMON.LLDP.HTTP.SSH.Telnet.SNTP Server/Client,.

Flow control:IEEE802.3x(Flow control).Back Pressure

function

Switch function:NT-Ring.POE+.RSTP.SNMP.QOS.802.1Q VLAN. Port Trunking.Static multicast filtering.Bandwidth management.Broadcast storm.Port traffic statistics.Online upgrade.Upload and download profiles,User name login system, etc.

NT-Ring: Support Single, couple, Chain, Dual homing etc. ring network structure.

Interface

Fast port:1X4 10Base-T/100Base-TX adaptive,RJ45 port.

Gigabit port:1X2 1000Base-X SFP fiber port.

Rs232 port number:1 RS-232 Control port, baud rate:57600bps

transmission distance

RJ45:100M(Standard CAT5/CAT5e cable)

Multimode fiber:1310nm,2KM

single mode fiber:1310nm,20/40/60Km

1550nm,20/40/60/80/100/120Km

Switch attribute

Fast forwarding speed:0.1488Mpps

Gigabit forwarding speed:1.488Mpps

Vlan number:256 VLan ID:1~4096 Multicast group number:256

transmission mode:Store and forward.

System switching bandwidth:4.8G

MAC address table:8K

Buffer:1Mbit Frame buffer.

Standard certification

EMI:

FCC CFR47 Part 15,EN55022/CISPR22,Class A

EMS:

IEC61000-4-2(ESD) ±8kV(contact), ±15kV(air)

IEC61000-4-3(RS) 10V/m(80MHz~2GHz)

IEC61000-4-4(EFT) Power Port: ±4kV; Data Port:±2kV

IEC61000-4-5(Surge) Power Port: ±2kV/DM, ±4kV/CM; Data Port:±2kV

IEC61000-4-6(CS) 3V(10kHz~150kHz);10V(150kHz~80MHz)

IEC61000-4-16(common mode conduction) 30V(cont.),300V(1s)

Mechanics:

IEC60068-2-6, IEC60068-2-27, IEC60068-2-32

Industry:

IEC61000-6-2

Railway:

EN50155,EN50121-4

Traffic control:

NEMA TS-2

LED indicator light

System indicator:SYS

Interface indicator:The green light is 100M,Off is 10M. Yellow light is light and blink for port link-up status,Transmitting and receiving data,Off is link-down status.

Power Supply

Input voltage:18~36VDC

Input mode:Plug in type 6 core 5.08mm spacing terminal

Support redundancy function for dual power supply

work environment

Operating temperature range:-40~75℃

Storage temperature range:-40~85℃

Outer case:IP40 protection grade, corrugated high strength metal case

Installation method: guide rail type.
Produktbild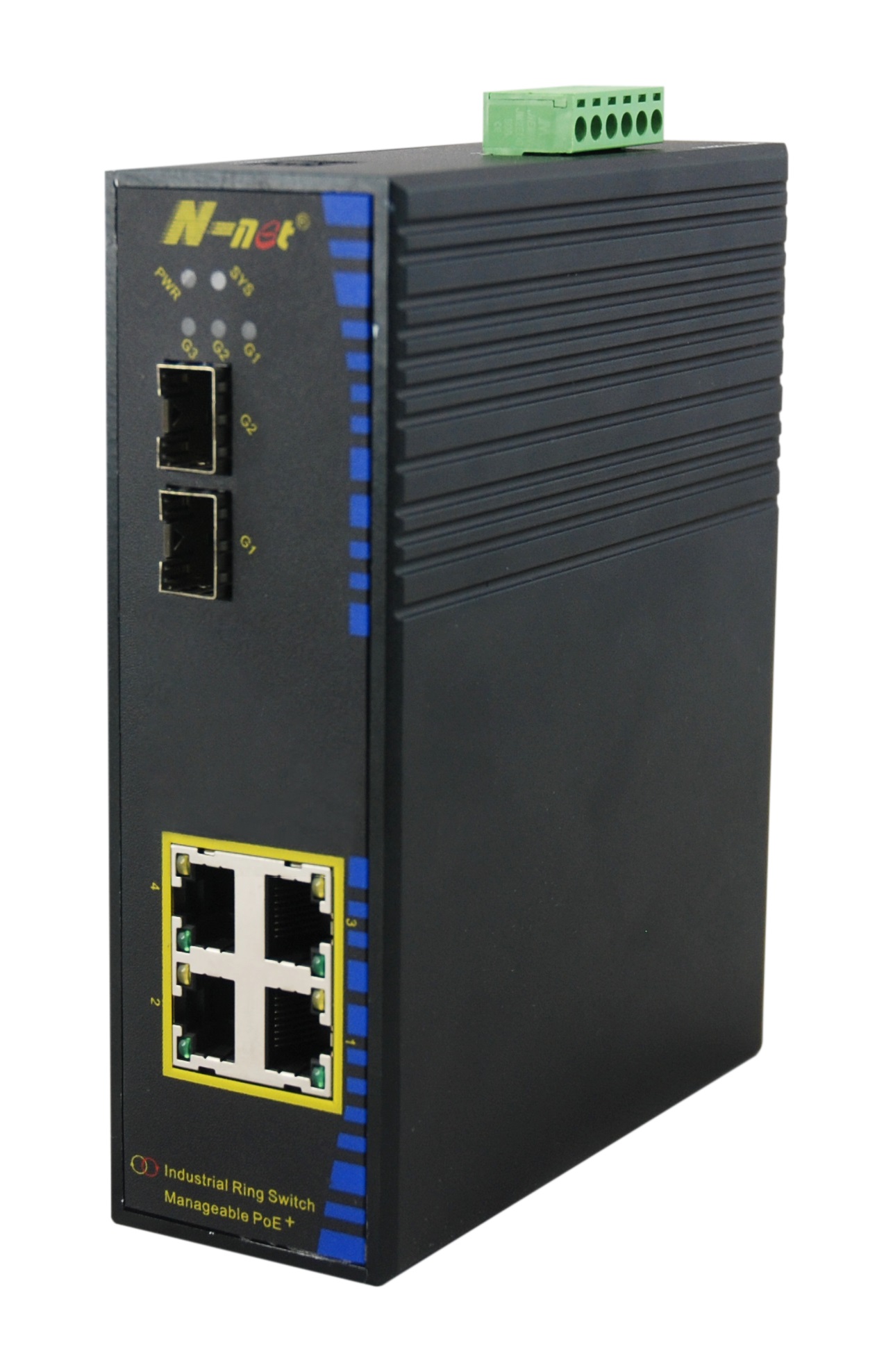 Produktkategorier : Industriell Ethernet Switch > Industrial Ring Ethernet Switch