Översikt
NT-MG1500 erbjuder överföringshastighet för trådhastighet med 12Gbps icke-blockerande switchväv, 8k MAC Adress-tabell och 802.3x Full-Duplex flödesreglering.
NT-MG1500 kan programmeras för grundläggande funktioner för omkopplingshantering, t.ex. porthastighetsduplexinställningar, Port Trunking, VLAN, Port Mirroring, Rapid Spanning Tree, etc. Dessutom innehåller firmware avancerade funktioner som IGMP snooping, QoS (Quality of Service ), sändning av storm och bandbreddskontroll, för att förbättra bandbreddsutnyttjandet.
NT-MG1500supports standard Simple Network Management Protocol (SNMP) och kan övervakas via vilken standardbaserad hanteringsprogramvara som helst. Dessa funktioner ger ett kostnadseffektivt sätt att hantera enheten från Internet när du arbetar eller hemma.
Huvudfunktion
Överensstämmer med IEEE 802.3 10Base-T, IEEE 802.3u 100Base-TX, IEEE 802.3ab 1000Base-T,
IEEE 802.3z 1000Base-SX / LX Ethernet-standarden
5-port 10/100/1000 Mbps Gigabit Ethernet-portar med 1-ports fiberport
Auto-MDI / MDI-X-detektering på varje RJ-45-port stöder CSMA / CD-protokoll
Förhindrar paketförlust med baktryck (halvduplex) och 802.3x PAUSE-ramflödesstyrning (Full-Duplex)
8K MAC adress tabell, automatisk källa adress lärande och åldrande
12Gbps switchväv, non-blocking switch arkitektur
9K Jumbo Frame stöds i alla hastigheter (10/100 / 1000Mbps)
Stödjer portbaserad och 802.1Q VLAN-funktion, upp till 64 VLAN-grupper
Stödjer IEEE 802.1w Rapid-Spanning Tree Protocol (RSTP)
Link Aggregation stöder statiskt läge och LACP (IEEE 802.3ad) - upp till 4 bagagegrupper, varje bagageutrymme är maximalt upp till 6 portar
IGMP Snooping för multicastfiltrering, stöder v1 och v2
Stöd DHCP-alternativ 60 och alternativ 82
Multicast och Broadcast Storm Control samt Flooding Control
Port Mirroring stöd för dedikerad portövervakning
802.1X Port-Base åtkomstkontroll, RADIUS Server Authentication
Statisk MAC-adress tilldelar destinationsadressens MAC-adress vid specifc-porten
Webbgränssnitt
Firmwareuppgradering via webbgränssnitt
Kabeldiagnostiksteknik
Stöder SNMPv1 med RFC-1213/1573-gränssnittsgrupp och RMON Group 1 (Statistics) SNMP Trap
Specifikation
Parameter

Specifications

Access mode

10/100/1000Mbps Gigabit Ethernet

Standards

IEEE 802.3 10BASE-T

IEEE 802.3u 100BASE-TX

IEEE 802.3ab Gigabit 1000Base-T

IEEE 802.3z Gigabit 1000Base-SX/LX

IEEE 802.3x Flow Control

IEEE 802.3ad Port trunk with LACP

IEEE 802.1d Spanning tree protocol

IEEE 802.1w Rapid spanning tree protocol

IEEE 802.1p Class of service

IEEE 802.1Q VLAN Tagging

IEEE 802.1x Port Authentication Network Control

Copper Ports

5-port 10/ 100/1000Base-T RJ-45 Auto-MDI/MDI-X ports

Wavelength

850nm/1310nm/1550nm

Transmission distance

Multi-mode Dual-fiber: 220m (62.5/125μm)/550m (50/125μm)

Single mode Dual-fiber: 20/40/60/80/100km(9/125μm)

Single mode single-fiber: 20/40/60km(9/125μm)

Category-5 twisted pairs: 100m

Port

Five RJ45 port:

Connecting with STP/UTP category-5/5e twisted pairs, EIA568A/B

One optical port:

Multi-mode Dual-fiber: SC/LC(SFP) (50, 62.5/125μm)

Single mode Dual-fiber: SC/FC/LC(SFP) (9/125μm)

Single mode Single-fiber: SC/FC (9/125μm)

Switch Fabric

12Gbps / non-blocking

Switch Throughput

8.9Mpps

Address Table

8K MAC address table with Auto learning function

Share Data Buffer

136K bytes on chip

Flow Control

Back pressure for Half-Duplex

IEEE 802.3x Pause Frame for Full-Duplex

Jumbo Frame

Max to 9K Bytes
Management Interface

Web Browser, SNMPv1, v2c monitor and SNMP Trap

VLAN

Port-Based / 802.1Q Tagged Based VLAN,

Up to 64 VLAN groups

Link Aggregation

Supports 4 groups of 8-Port trunk,

IEEE 802.3ad LACP

QoS

Traffic classification based on 802.1p priority,

DSCP field in IP Packet

IGMP Snooping

IGMP (v1/v2) Snooping, up to 64 multicast groups

SNMP MIBs

RFC-1213 MIB-2

RFC-1573-Interface MIB

RFC-2819 RMON MIB(Group 1)

LED

Power, 1000 Link/Act, 100/10 Link/Act per port

Power Requirement

100 - 240VAC 50~60Hz, 40~57VDC

Power Consumption

6 watts

Temperature

0~50 ℃

Humidity Operating

5~95%(non-condensing)

Dimensions

217mm x 135mm x 43.5mm (W x D x H)

Weight

0.5kg

6-ports webb smart Gigabit-switch med 1 fiberport
NT-MG1500-serien
tillämpningar
FTTx-omkopplare
Med 1gigabit-fibergränssnitt, för att bygga en nätverkslösning av FTTH (Fiber to the Home) eller FTTC (Fiber to The Curb) för Internetleverantörer och FTTB (Fiber to the Building) för företag, är de olika avstånden till fiberporten valfria för kunderna. För säkerhet och applikationer kan de 5 Gigabit-portarna konfigureras med VLAN-inställningar och ansluta till olika enheter, kontor, byggnader, hus och avdelningar. Och NT-MG1500 är en bred tillämpning på Europa FTTH-marknaden.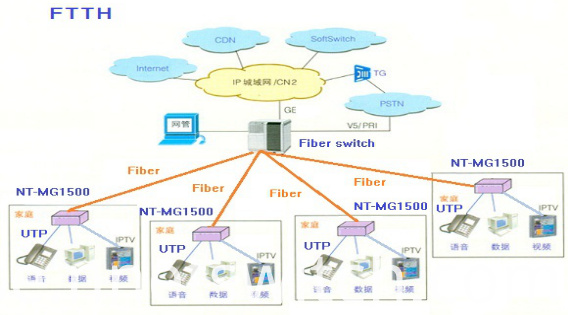 orderinformation
NT-MG1500 6-port 10/100/1000 Mbps webbsäker Gigabit Ethernet-switch
Produktkategorier : Industrial Media Converter > Industriell Gigabit Media Converter