Beskrivning:
NT-EPU801 (SFU) är en mini-GEPON ONU-terminalanordning som gäller för ren bredbandsåtkomst. Den antar kompaktkonstruktion av mini-typ med hög integration och kan ge 1 GE (RJ45) -gränssnitt. Stöder tekniken för routerfunktion i lager 3 med PPPOE / DHCP / Statisk IP, och det är lätt att underhålla och hantera. Det kan tillämpas på FTTH / FTTP-åtkomstapplikation för bosatta och företagare.Om den uppfyller helt tekniska föreskrifter såsom IEEE802.3ah och tekniska krav för EPON Equipment (V3.1).
GPON (Gigabit Passive Optical Network) Detta är utvecklingen av BPON-standarden. GPON stöder högre priser, förbättrad säkerhet och valfritt lager 2-protokoll (ATM, GEM, Ethernet). I mitten av 2008 hade Fryson Telecom installerat 800 000 linjer. British Telecom (British Telecom) och American Phone and Telegraph Company (AT & T) genomför avancerade försök. Andra företag som Independent Fiber Networks Ltd. samarbetar med tjänsteleverantörer som See the Light för att ge GPON-anslutningar med högre hastighet och fiber till hemmet.

Funktion:
Plug and play, funktioner för automatisk upptäckt, automatisk konfiguration och uppgradering av automatisk firmware etc.
Stöd för trippelkörningskrypteringsbegäran
Stöd DBA-rapporteringsmekanismens begäran
Stöd OAM-underhållsfunktion för fjärrkonfiguration
Stöd fjärruppgraderingen och ladda ner
Support statusupptäckt och felrapport
Stöd för att konfigurera arbetsläget i användarporten.
Stöd datakryptering och dekryptering
Support 802.1Q VLAN
Stöd rik QinQ VLAN-funktioner och IGMP Snooping
Stöd trafikregel för att ändra den relaterade prioriteten.
Support LED-indikering
Stöd för att återställa fabriksinställningarna
Stöd fjärråterställningen och starta om
Stöd döende andningsavbrott larm
Helt kompatibel med OLT baserat på ZTE-chipset.
Användningsområden:
Datatjänster
Rösttjänster
Videotjänster
Övervakningstjänst
FTTH / FTTB / FTTO / FTTP
Prestationsspecifikation:
Technical items

Description

Optical property

Upstream PON interface

1 EPON interface, SC single-mode/single-fibre, symmetric 1.25 Gbps

Wavelength

Tx 1310nm, Rx 1490nm

Optical output power

-1~+4dBm

Receiving sensitivity

<-26dBm

Farthest distance

20km between OLT and ONU

Optical interface

SC/UPC connector

Downstream LAN interface

1*10/100/1000Mbps auto adaptive Ethernet interfaces, Full Duplex/Half Duplex, RJ45 connectors

Ethernet function

Support IEEE802.1Q VLAN

Support speed rate inhibition of broadcast packet at ONU

IEEE 802.3X flow control

Support 16 multicast addresses at each LAN port

Security strategy

Support AES-128,data encryption for both upstream and downstream

Support dynamic update of key

Management maintenance

Centralized OLT management based on OAM

WEB,CLI

Upgrade software remotely

Hardware information

Indicators

4 indicators, for status of power supply, PON port and 1 Giga-Ethernet port.

DC power supply

+12V, external AC-DC power adaptor

Chipset

ZTE chipset

Power switch

1

Power consumption

≤2.5W

Operating condition

Operating temp: -5~+55℃
Operating humidity:10~90%(non-condensed)

Storing condition

Storing temp: -30~+60℃
Storing humidity:10~90%(non-condensed)

Dimension

120mm*100mm*30mm(length*width*height)

Net weight

0.24Kg
lösningar: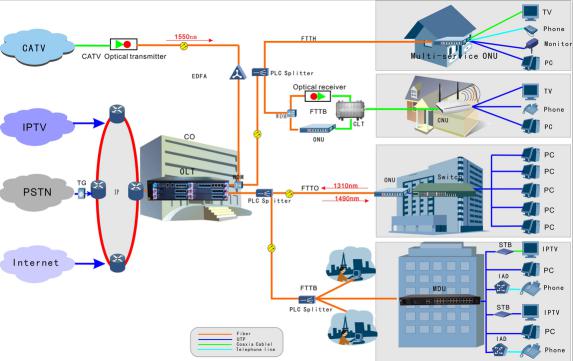 Produktkategorier : Passivt optiskt nätverk (PON-serien) > GPON ONU / OLT